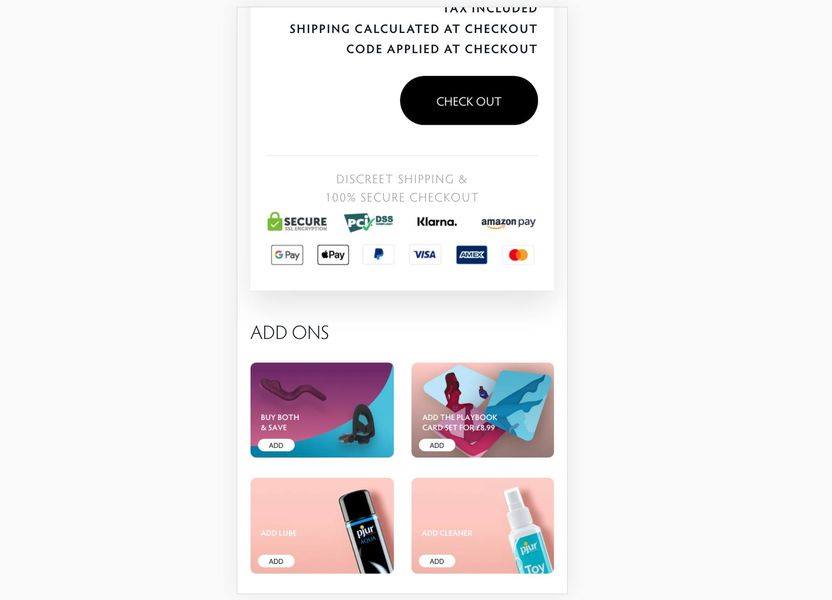 1. Problem:
Under the Checkout section you have Add ons section, but I almost sure that the majority of users don't notice it (you can check it using Heatmaps), so you lose the opportunity to raise the AOV for such users.

Recommendation:
Consider placing add-ons somewhere above the Checkout button, so 100% of users will notice it. Add-ons that you are offering fit very well for your main products and I believe that many customers would buy it. If you decide to do that, just make it less prominent, more subtle, so it will not distract from the Checkout button too much.





2. Problem:
You have the wrong visual hierarchy for the Checkout button because the header has the same background color, so it can take a lot of users' attention

Recommendation:
Consider using a less prominent color of the header, so the Checkout button will be the most prominent element on the screen. Also, make it full-width on Mobile devices, because it's standard UX for such a button in Mobile view.





3. Not a problem, but the thing to discuss and think about:
Based on my experience of shopping for such products, one of the most important things is discreet delivery, because the majority of people don't like to share such personal things with others (you can make user research via polls and surveys to know if it's a problem for them or not).
Right now the only thing that you have about it is a small text "Discreet shipping" under the Checkout button, but it doesn't reveal any important details.

Recommendation:
If that's a real problem and many users think about that when deciding about a purchase, it makes sense to add some section that will explain it in: how is it delivered, why is this discreet, and so on.
Such sections usually help users to cope with the last fears and objections and motivate them to complete a purchase.



I hope these recommendations will be useful to you. Feel free to ask any questions.

Want to get a short review of your Shopify store? Check out this link - [http://bit.ly/3rAgWPQ]